Commercial Roofing in Romford
Our felt roofing is all carried out with high performance materials, being polyester based felts for the main layers and a glass fibre first layer, laid in hot bitumen. These high performance felts won't crack or break down as some other type of roof material users would have you believe, eg fibreglass or rubber.
There are many different specifications available, but we at able felt roofing stick to sensibly priced yet still good quality materials. Our felt roofing is all laid traditionally, with hot bitumen, not put on with a flame gun. When we are doing a mineral surfaced finished roof we use the age old method of wetting the laps in with water, sometimes putting an additive in the water to in effect hold the water in place so that the bitumen doesn't stick to the previous sheet. We also use masking tape to mask out the edges of our roofs when the use of water is not practical e.g the roof slopes towards the laps or we are bonding felt onto a drip edge, not many, if any roofers out there do this.The adhesives we use are all hot i.e the bitumen for bonding the felt and even the gritting solution for sticking either granite or limestone chippings to the roof surface are hot.
These felt roofing methods have been handed down over generations, and are tried and tested, the only difference is we use modern high performance felt.
Please look at some of these photos for different felt roof finishes.or look in our portfolio.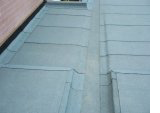 This is a felt roof with a green mineral finish.on a bungalow.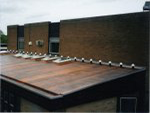 This is a copper felt roof on a sports centre.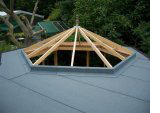 Another high performance green mineral finish roof.